Au-Delà des Pistes, promotes the retraining of racehorses
Launched in 2016, Au-Delà Des Pistes is the official French charity for the promotion of retraining racehorses that is endorsed by France Galop.
Presided by Aliette Forien, with Marine Thevenet as the project manager, Au-Delà des Pistes aims to raise the awareness of the versatility of ex-racehorses in their secondary careers. Retraining is part of an ongoing process to ensure thoroughbred welfare continues throughout its lifetime.
Rapport Annuel 2018-2019
Après plus deux années d'existence, l'Association Au-Delà des Pistes est aujourd'hui au coeur du bien-être des chevaux de course sur le territoire français... Ce document dresse le bilan de la deuxième année d'action de l'Association et les objectifs à venir
[ Télécharger le Rapport Annuel ]
Next ADDP Event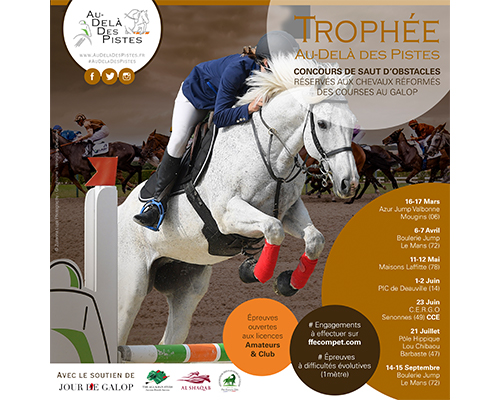 Au-Delà Des Pistes Trophy - Competition of Valbonne (06)
For the first time, Au-Delà Des Pistes will be pleased to organize one of its Show-Jumping events reserved to the retrained racehorses, on the magnificent place of competition of Domaine du Lieu Plaisant, in Mougins (06), in the south East of France, Saturday, March 16th.
[ Read article ]
[ All News & Events ]

Ex-Racehorse of the Month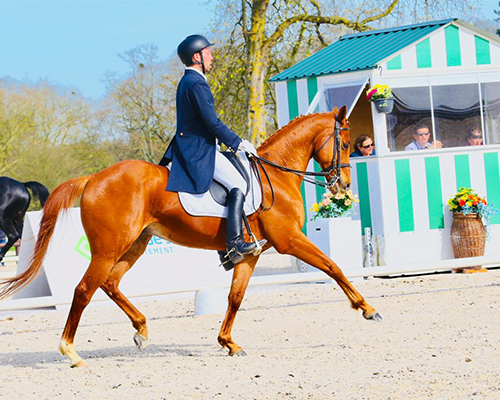 FÉVRIER
Quinquina des Rodons
Our Retrained Racehorse of the Month is back! For the first edition of 2019, we move to the elegance of pure Dressage. A 15-year-old AQPS, QUINQUINA DES RODONS will compete this year on the Grand National Pro-Elite circuit, the highest level of this discipline in France.
[ Find out more ]
Accredited Facilities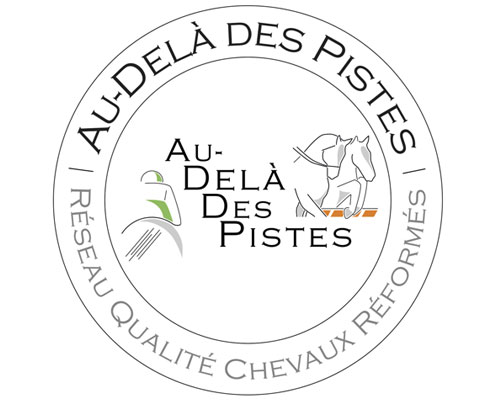 Why apply for accreditation?
You are a commercial retraining facility, a charity, a riding school or even an individual retrainer that works with ex-racehorses, retraining them for other equestrian sports or as riding horses.
[ Find out more ]