FRENCH HORSE BALL CHAMPIONSHIPS IN DEAUVILLE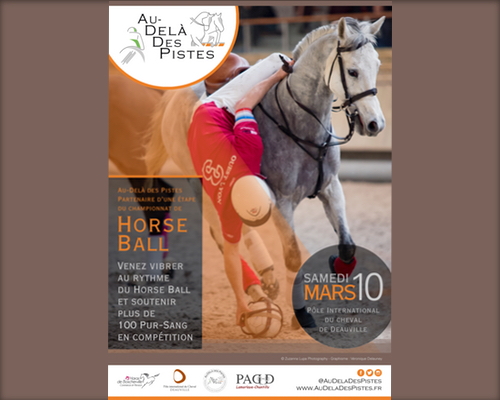 For the second consecutive year, the French Charity Au-Delà Des Pistes will be pleased to be the official sponsor of the Deauville's steps of the French Horse-Ball Championships which will be held at the Pôle International du Cheval in Deauville .
Over the week-end, among the 132 horses who will compete, only two will not be Thoroughbreds ! Horseball is rapidly becoming recognized as a significant second career for racehorses as demand grows from within the sport for Thoroughbreds: it is a discipline suited to a broad spectrum of equestrian athletes, but the most-sought after qualities are those inherent in the thoroughbred: speed and intelligence. It has therefore seemed very important and interesting for the members of Au-Delà Des Pistes to be present on this type of equestrian event where the retrained Thoroughbreds are highlighted. That is why, as a partner, the French Charity will reward the winning professional teams with sheets embroidered with the colors of the association.
---
More on Au-Delà des Pistes:
Facebook: https://www.facebook.com/audeladespistes
Twitter: @audeladespistes
Email: marine.thevenet@audeladespistes.fr
Project Manager: Marine Thevenet - Tel: +33 6 79 59 97 49