Salon du Bien-Être avec le Cheval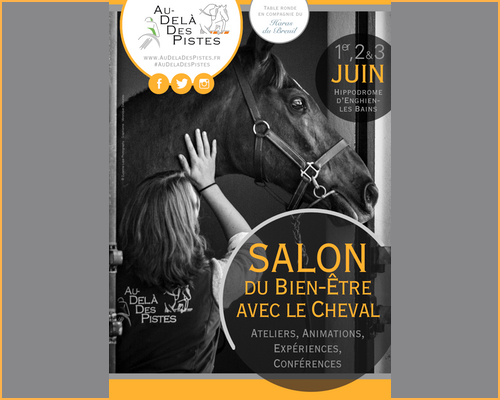 For a different approach on how to build a strong relationship with the Thoroughbred, Au-Delà des Pistes is delighted to take part in the inaugural edition of the Salon du Bien-Être avec le Cheval ("Welfare with the Horse"). Come and see us from June 1 to 3 at Enghien-les-Bains racecourse to share your own experience !
For an optimal transition from their original career to the next, Thoroughbreds require a holistic approach, as Gautier-Jean Burgat, who runs a retraining structure accredited by Au-Delà des Pistes and specialises in equitherapy, explains: "Before and after its retraining, a thoroughbred remains the same horse. Beyond its athletic abilities, the breed offers exceptional qualities in terms of behavior and emotions. It is a very attentive, very sensitive horse with a remarkable capacity to learn." We look forward to seeing you at the Salon to share your expertise and feedback on the Thoroughbred and its welfare!
---
More on Au-Delà des Pistes:
Facebook: https://www.facebook.com/audeladespistes
Twitter: @audeladespistes
Email: marine.thevenet@audeladespistes.fr
Project Manager: Marine Thevenet - Tel: +33 6 79 59 97 49